 Votive Stands provided Free On Loan*
St. Killians will provide the votive stands free on loan to your church with the purchase of a set number of candles
* Free on loan is subject to Terms and Conditions.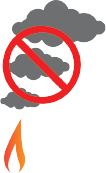 No More Smoke or Soot Damage
The persistent problem of smoke and soot accumulating on walls and ceilings caused by other candle burning systems have proven to be costly, unsightly and extremely dangerous. St. Killians Candles are made with three times refined paraffin and therefore does not emit any soot/smoke making it reliable for Churches and Cathedrals. The self-extinguishing element to this candle eliminates the need to extinguish candles at the end of a day or after a mass – again eliminating any smoke.

No More Plastic or Aluminum Cups
The system was initially designed without plastic due to the safety benefits. However, today it is a vital element to the St. Killians system. By eliminating plastic cups from landfill, we are helping the planet; one candle at a time.

No More Unprotected Flames
The St. Killian glass system is a three pieces patented glass system. The colour glass is secured on the stand; the middle glass is used as a barrier to protect the colour from any excess wax. The candle then sits inside the inner glass. This flame is then isolated within secured glass to eliminate the fear of a candle falling over. After burning for 60-90 minutes; the candle is completely liquid, and falls through the hole at the end of the inner glass; extinguishing itself on the way down falling into a water bath to completely guarantee quenching.

Environmentally Friendly
The candle itself uses no plastic/metal cups, helping the environment reduce its plastic consumption one candle at a time. It is self contained and burns within a glass. We also offer a full glass cleaning service to all of our St. Killians customers, once the glass has become dirty; we arrange for new glasses to be sent out as replacement and the dirty glass to be returned to us for cleaning.

No More Wax Spillage on the Floors
As part of our service, we offer taper sticks for all of our candle stands. This eliminates the need to light one candle off one another.
As the candle sits inside a glass there is no room for wax to spill on floors.

Revenue Generator
It has always been important to us that we facilitate and help the church's mission. Which is why we suggest and recommend offerings when this system is introduced to the church. From our experiences around the world, we are aware of what is needed and what people are willing to contribute to the church. On average, we see that revenues increase by approx. 75%. This is an important element for us because we understand the work that can be done with extra funds made available within.

Low Maintenance
We believe each person who participates in the cleaning and upkeep of Churches and Cathedrals deserve to have the least amount of work when it comes to cleaning and servicing the unit. We offer a full glass cleaning to all our St. Killians customers. The demonstration of servicing the stands can be found (link to service videos in hyperlink) here and also in 'maintenance' tab on our website. The main element to the cleaning is to empty the wax twice a week and maintain water levels of 2″

Lifetime Guarantee
We offer a full lifetime guarantee to all of our customers which will supply a full repair/replacement of spare parts.

Self-extinguishing Candle
This element of the system was very precious to us at St. Killians. We designed this system with the intention to the allow the burning of candles in churches without the fear of soot/smoke/fire.
However a huge element of the development was to enable a person to put their intention in the form of a lighting flame inside the house of God. Every candle is lit with an intention. Every candle is special for whatever reason and it was important for us that every candle could stay lit and burn for its full intention. Hence; the self extinguishing. It allowed every intention to burn for its special reason without any interruption due to fear of fire safety.
Before You Go...
Thanks for stopping by!
Before you go why not sign up for our Newsletter and we will keep you up to date with all the latest News and Special Offers from St. Killians