Michael Murphy
Co-Founder and Director
Michael, from Co Tipperary Ireland is the Co-Founder and Director of St Killians has been involved in the church business all his life. He is the 5th generation of his family's involvement working with the church.
Michael mainly operated in the candle business, however always had a passion to work with the church whenever possible. From this, along with the relationship and friendship with Michael Barrett decided to merge the two industries to invent and develop what would become St Killians Candle Company.
Michael has an entrepreneurial personality and always strives for creativity. With Michaels eye for new ideas and creations- St Killians is always growing and developing to be the best option for a candle burning system within the church.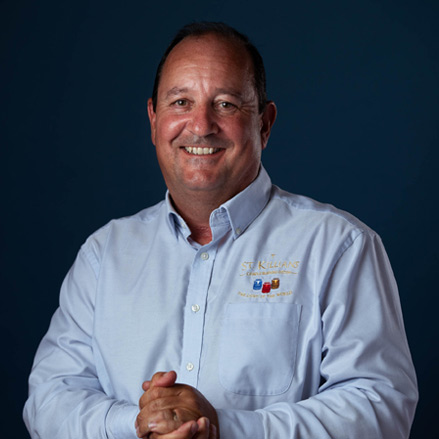 Michael Barrett
Co-Founder and director
Michael, from Co Galway, Ireland is the Co-Founder and joint managing Director of St. Killians has been involved in the church business for the past 30 years.
Michael with his knowledge and expertise of the market, along with a great relationship and friendship with Michael Murphy developed St Killians Candle Company.
Michael is always excited to launch St Killians into new markets around the world and is proud to say that he has helped our teams worldwide to grow St Killians into 28 different markets.
Michaels interest, passion and involvement in the invention of the system pushed him to realise the importance of having a patent on this invention and successfully did so in European/US and Canada markets.
A drive towards the strategic planning for the future growth of the company is also his driving passion.
Paul Sullivan
Director of Sales – Australia
Paul lives in Sydney , Australia and brings with him more than 25 years of experience in Church supplies .
Paul has proudly been with Saint Killians for over 3 years and in that time has spread the Saint Killians Candle Burning System to Cathedrals , Shrines & Churches throughout Australia.
The opportunity to introduce Saint Killians to Parishes in Australia has been incredibly satisfying as the transformation once installed has been a phenomenal improvement.
Paul is also the Managing Director and Founder of Sullivan's Church Supplies and proudly provides products & consultancy to Parishes throughout Australia.
Paul & his team look forward to hearing from you to discuss the opportunities to transform your Cathedral , Church or Shrine with the benefits that Saint Killians provides.
Before You Go...
Thanks for stopping by!
Before you go why not sign up for our Newsletter and we will keep you up to date with all the latest News and Special Offers from St. Killians